You know, because it's Cinco de Mayo.. ya, that's it!
Before I go any further, Gramsie and Nantie-skip this post, please. Don't ask. Just move along now.. Gracias..
Our special guest tonight is the lovely Suzanne Smith from
Love Without Boundaries
.
A mommy of four (her youngest, now 5, was adopted from China through the Special Needs program), is the Associate Director of Communications for LWB and passionate about getting the word out about her amazing organization.

What does LWB do? From their web site:
"LWB began in the year 2003, after a group of adoptive parents came together to help save the life of one tiny boy in China. Following his successful heart surgery, they realized that people with a pure love for helping children can truly make a difference. LWB incorporated as a 501(c)(3) charity in the state of Oklahoma, and our worldwide team of volunteers went to work. We have watched our foundation grow from providing a handful of surgeries and baby formula in 2003 to touching the lives of thousands of children today through our many program areas. LWB holds Charity Navigator's highest 4 star rating and has an administrative overhead of less than 8%."
Tonight is going to be a totally rockin' show. In addition to Suzanne sharing her journey and the inspiring mission of LWB, we're going to be honoring all the Mommy Ladies that read my blog and watch our show. At the end of the evening we'll be announcing the winners from the SAWWEET MOTHER'S DAY GIVEAWAY (go on over, there's still time to enter) for FOUR delectable delights like these from Gesine Confectionary:



AND

Suzanne will be giving away 4 copies of "Love's Journey 2". A beautiful hardback full-color book featuring families with children adopted from China sharing their stories:



HOW COOL IS THAT??!!

Want to join the fun but not quite sure how?? Right around 9PM EST tonight
CLICK HERE ~~~>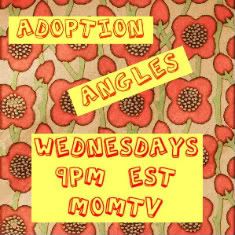 Once you're there just click on: "Click Here To Enter Chat" and either use your member log in OR type in a chat name and VIOLA.. you're in like FLYNN! We loooove your questions and comments (and you can't be randomly chosen for prizes if we don't know who you are, right?!).

So go on and grab your marg, cervesa or other fav bevvie and join us LIVE tonight at 9PM EST ~ 7PM MST ~ 6PM for the West Coasties!! See you there!