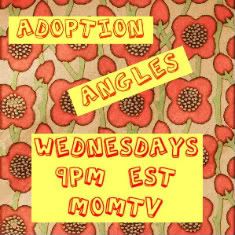 Tonight our amazing guest is none other than my dear friend Lori from
Weebles Wobblog
!! A mommy via domestic adoption (twice) she will share her beautiful journey and passion for open adoption.
If you listen closely you may even hear some West Side Story references (just seeing if you're paying attention TOOTPU).
Grab your favorite bevvie and join us LIVE tonight on
MomTV's Adoption Angles
at 9PM EST (6PM for all you west coasties!).
Make sure to tune in.. I may even chat about the door that just opened...