At 8PM EST
TONIGHT
I'm going to be on
Get Real!
with beautiful Sarah discussing what biological moms should know about adoptive moms. Misconceptions, things we say that may or may not be appropriate and how we can celebrate adoptive families. How cool is THAT?!
If you are a parent via adoption and would like to share an experience you would like me to pass along tonight, please leave a comment! Also, you can join us live in chat and share your thoughts, as well! We would LOVE to have you!
BUT WAIT..
THERE'S MOOOORE
...
Also tonight at 9PM EST on
MomTV's Adoption Angles
, my guest is lovely Sally Bacchetta from
The Adoptive Parent
will be joining us!
She is an adoptive mother and award-winning writer with more than a decade of experience in medical writing, magazine journalism, and corporate communications. She draws on her educational and professional background in psychology and counseling to illuminate the private thoughts of adoptive parents with sensitivity and honesty. Sally is the author of the book What I Want My Adopted Child to Know: An Adoptive Parent's Perspective.
For more information about Sally and her book visit
http://www.theadoptiveparent.com/
.
How do you find us? Go here: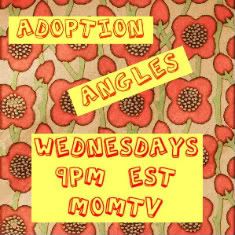 Type a chat name in and THAT'S it! You're IN!
Join us tonight at 9PM EST.. 6PM for all the west coasties TONIGHT! It's a Mel Double Header tonight on MomTV!!! Please join the fun!!