Published author and single mommy via international adoption (TWICE).. the ever talented Dee Thompson, that's who!
Dee never dreamed as a little girl that instead of getting married and having babies, she would one day travel to Russia as a forty-something single woman, and meet her daughter in an orphanage. She never dreamed she would travel to Kazakhstan a few years later and adopt a little boy with one hand. But like the Russian proverb says, plans are silly - "IF you want to make God laugh, tell him your plans!"
Now she is a writer and single mom living in Atlanta with two teenagers, her mom, and a 10 lb. furbaby named Coco. She has written a book about her adoption adventures called
Adopting Alesia: My Crusade for My Russian Daughter
, as well as a children's book,
Jack's New Family
. She writes a daily blog called
The Crab Chronicles
. She tries to spread the message every day that adopting older children can be a happy experience and she will be sharing her journey with us TONIGHT!
AND..
We'll be giving away a darling Kimochis character LIVE on the show tonight!!! Have you ENTERED the contest yet??
GO HERE NOW FOR DEETS
!!!
How do you find MomTV's Adoption Angles? Why, all you have to do is go here: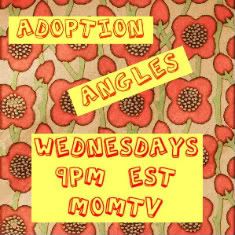 Type a chat name in and THAT'S it! You're IN!
Join us tonight at 9PM EST.. 6PM for all the west coasties TONIGHT! See y'all there!!