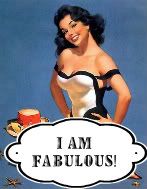 Kadi the Innkeeper
has proclaimed the following:
In order to promote greater self esteem in women (and bloggers,) I made a little button for those of you who are participating in the blogtivity.

Here is the chore:

Make a list of reasons why you rock! Take a minute to reflect on what makes you great. Appreciate yourself. Love yourself. Look in the mirror and say, "I am fabulous!" (Go ahead...I'll wait here.) .Ok, now go and list those reasons on your blog and don't forget to grab the button . Bestow it upon yourself and three other bloggers who you think need to be told that they are fabulous too! Let's spread these self esteem boosters all over the blogosphere because we deserve a little praise, dammit!
~~~~~~~~~~
I was tagged by my fabulous girl
Rubi
so here we go:
I Am Fabulous Because:
*I am a hard worker
*I am a good friend
*I adore my husband & try to remember to show him how important he is to me
*I have a heart to help others
*I don't use my past as an excuse
*I can keep a secret
*I know my life is blessed and let other people know it
*The glass is half full (of water, wine.. whatever, it's all good)
*I know it's all in His hands.
~~~
I tag:
EVERYONE
THAT WANTS TO PARTICIPATE!!! PLEASE LEAVE A COMMENT SO I CAN READ ABOUT WHAT MAKES YOU FABULOUS!!!!