What are you doing tonight at 9PM EST?? You're joining us for the big premier, that's what!!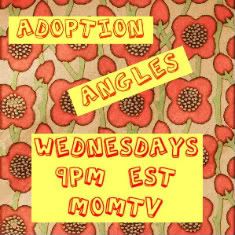 What's it all about, anyway?
Adoption (all avenues) and the amazing people whose lives have been touched by it.
Why should I tune in?
Because if you don't I'll blog about you the next day.
I'm OVER THE TOP THRILLED to announce my very first guest is the lovely Amy from
Amstel Life
. In her mere 23 years (I can say that being 40, ya know) she has had to make some big decisions .. including handling an unplanned pregnancy in high school. Today she is a proud birth mommy, college graduate, a mentor and a proponent of open adoptions (just to name a few)..
Come hear her story!
One of the rad parts about MomTV is it's interactive.. not only will you see and hear us on live streaming web chat but you can also text us during the show. We're happy to answer (MOST) questions...
ahem..

Don't forget.. 9pm EST tonight (that's 6pm for all you west coasties!!) hop on over to
Adoption Angles
and join Amy and me for a fun filled half hour!
Cocktails Optional!!
(P.S. If you, or someone you know, has been touched by adoption and would like to be a guest on the show, please drop me an email at
adoptionangles.momtv@gmail.com
)