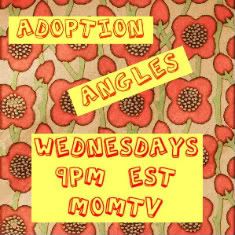 It's Wednesday and you know what that means, right? You'll be hanging with me at 9PM EST over on MomTV's Adoption Angles! Joining us tonight is none other than THE Heather T. Forbes.. In my circles, this amazing woman is a rock star. From her web site:

Heather T. Forbes, LCSW has trained in the field of trauma and attachment with nationally recognized, first-generation attachment therapists since 1999. Co-author of "Beyond Consequences, Logic, and Control: A Love-based Approach for Helping Children With Severe Behaviors Vol. 1", author of Vol 2 as well as the new "Dare To Love", Heather lectures, consults, and coaches parents and professionals throughout the U.S., Canada, and the U.K.

Much of her experience and insight on understanding trauma, disruptive behaviors, and adoption related issues has come from her most important job, being the mother of her two children (both adopted as toddlers from Russia and both of whom had intense traumatic histories).

I am truly honored Ms. Forbes is going to grace our show with her presence and answer our questions. A really cool aspect of MomTV is that it's really user friend and so easy to join the chat room. From the Adoption Angles channel click where it says "Click Here to Enter Chat." If you have a http://www.stickam.com/ account, enter your username and password. If you don't have an account NO WORRIES, just make up a name and "enter your name to chat" .. and you're on!! Easy Schmeasy!

THIS is MUST SEE TV and we'll see you all tonight!