My very special guest tonight is lovely Holly who hails from the great state of Texas!
She and her husband Sean adopted two children ages 9 & 10 out of foster care in 2002. Both children suffer from Reactive Attachment Disorder and Fetal Alcohol Syndrome. Currently, the kids are 17 & 18. Their son is proudly serving in the United States Army and their daughter resides at home with Holly and Sean.
I am thrilled she will be sharing her adoption journey with us!
But wait.. THERE'S MORE
...
Tonight's special edition will be coming to you live from the boudoir. Well, the kids room, anyway.. because also joining us is BO, the latest and greatest addition to our household!
He is one of several bedframes available from
Incredibeds.com
and we just love him! FYI.. in my left sidebar there is a coupon code for $40!! Go check them out.. they're DARLING!!!
How do you find MomTV's Adoption Angles? Why, all you have to do is go here: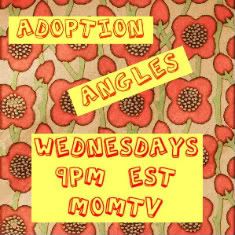 Type a chat name in and THAT'S it! You're IN!
Join us (AND BO!!) tonight at 9PM EST.. 6PM for all the west coasties TONIGHT! See y'all there!!