Well, I'm glad you asked!
My wonderful guest is the lovely and talented Elaine Hall!

A former actress, Hall worked as a successful "baby wrangler" for Hollywood feature films; 40-something, married nine years, active in her Jewish faith, and devastated by successive miscarriages, she along with her then-husband traveled to an orphanage in Yekaterinburg, Russia, to adopt a quiet two-year-old. Neal, as she named him, couldn't speak or make eye contact, and despite Hall's belief in his innate intelligence, the boy was eventually diagnosed with "severe sensory dysfunction."
From her web site: Her soon to be released book, "Now I See The Moon"


she recounts her adoption of a troubled Russian toddler and her long, tortuous, ultimately enlightening journey to treat his nonverbal autism. She beautifully chronicles Neal's development to the age of his bar mitzvah vis-à-vis his responses – positive and negative – to the slew of experts and coaches Hall found to create therapies tailored to his very individual needs. Her brilliant, pioneering work with The Miracle Project, which she created and directs, has garnered accolades throughout the world and is the subject of the EMMY Award winning documentary Autism: The Musical. She also created and directs a groundbreaking Bat and Bar Mitzvah program for children on the autism spectrum. She has been the subject of articles in The Los Angeles Times, The New York Times, The Wall Street Journal, The Jerusalem Post, among many others and has appeared on CNN, CBS News, Oprah Radio and NPR.

WHEW!!!!!

How do you find MomTV's Adoption Angles? Why, all you have to do is go here: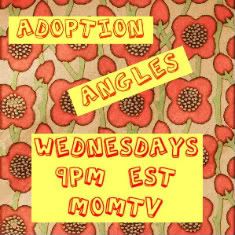 Type a chat name in and THAT'S it! You're IN!
Join us tonight at 9PM EST.. 6PM for all the west coasties TONIGHT! See y'all there!!