So, who is my awesome guest on Adoption Angles tonight? Why, it's none other than the lovely Kelsey Stewart, that's who!


She is a mother of 5 children, three of which she placed for adoption. She now has two boys she is raising with her husband. Kelsey is the author of a beautiful children's book
The Best For You
that explains adoption from a birth mothers perspective (something that is ironically missing in the adoption world even today). She has written articles for
The Open Adoption Examiner
and
Tapestry Books
, the latter so appreciated her work they created an eBooklet available on their web site. The past 20 years she has had a very open relationship with her adopted children and positively advocates for adoption (especially the birth mother's point of view).
Her mission? To use her voice and experiences to change the way people think about all birth parents.
You can also find Kelsey at:
Her Blog:
The Birth Mother Voice
Her Facebook Fan Page
And Twitter: @bestforyoubook
Tonight's show will undoubtedly be enlightening and inspiring .. but guess what? We've also got something really special in store for our wonderful viewers! Kelsey will be giving away an autographed copy of her book:


AND ...

I'll be giving away a $20 gift card to Puma Kids!! Two viewers will be randomly chosen at the end of our broadcast so please make sure you let us know you're there!!

How do you log in??? Piece of cake..

CLICK HERE ~~~>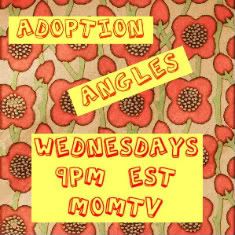 It's super dooper easy to join the live text chat fun... just click on: "Click Here To Enter Chat" and either use your member log in OR type in a chat name and VIOLA.. you're in like FLYNN! We loooove your questions and comments!

So, write yourself a sticky note and pop it on your forehead. 9PM EST tonight.. be there!