You may know her from her from
MissLori.TV ~ Musings From My MiniVan
or
Miss Lori's Campus
, as a recording artist, educator, a friend on Twitter (@MissLori), a former PBS Kids host or (most importantly) a Mom. But did you know beautiful Miss Lori is adopted (and proudly so)? Well, she is and has a very cool journey to share.
Join us LIVE
tonight
at 9PM EST (that's 6PM for all my west coast besties!!)... You know we love your questions and comments so make sure to log in and text chat with us..
CLICK HERE ~~~>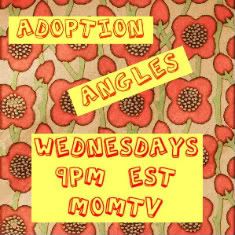 It's crazy easy to join the live text chat fun... just click on: "Click Here To Enter Chat" and either use your member log in OR type in a chat name and VIOLA.. you're in like FLYNN!
We look forward to seeing ya'll tonight!!