You know, I really missed doing the show last week and so totally psyched to be back.. and with yet another amazing guest, no less! I'm thrilled to announce the beautiful Erica from
Parenthood For Me
will be joining us!!
Hers is a journey of unsuccessful infertility treatments that eventually led to starting a family via adoption. She is the Founder and President of the non-profit
Parenthood For Me, Inc
with a mission
to provide emotional support, educational tools, and financial support to those adopting or pursuing Assisted Reproductive Technology (ART) to try and conceive. We hope to ease some of the burden bestowed on people who desperately want to be parents.
In her words, "Having a family is fundamental to the human experience. It should not come down to the size of your bank account..."
CAN I GET AN AMEN??!!??
CLICK HERE ~~~>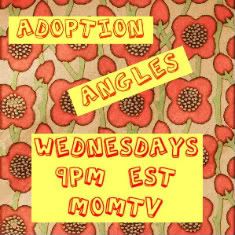 Let me tell ya, it's crazy easy to join the live text chat fun... just click on: "Click Here To Enter Chat" and either use your member log in OR type in a chat name and VIOLA.. you're in like FLYNN! We loooove your questions and comments!
By the by, you can also find Erica on her
Facebook Fan Page
, her blog:
and on Twitter @parenthoodforme..
We're live from New York and Colorado
tonight
at 9PM EST (that's 6PM for all my west coast besties!!)... JOIN US!!!!