It's a BIG SHOW tonight, my friends!!!
CLICK ME ~~~~>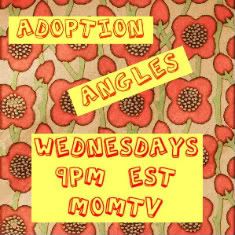 Lori from Weebles
is back .. joined by Crystal (the first mom of Lori's daughter, Tessa). They met 9 years ago this month, when Crystal was 8 months pregnant and when Lori and her husband, Roger, had been waiting a whole week since turning in their adoption profile.
Crystal ended up delivering early, meaning that the three had known each other about a week when Tessa was born. The relationship between their two families, which has been close ever since, was recently featured in
Adoptive Families
magazine.
Lori and Crystal teach classes in Denver on how to have a successful open adoption. They also
coach
people over the phone if they have questions about building a healthy birth-family/adoptive-family relationship.
DO NOT MISS this opportunity to log in and chat with Lori, Crystal and me! 9PM EST TONIGHT!! Not only will they share their awesome journey and answer your questions.. you may even get to hear a few Grease ditties (or we might even shake things up and throw in some West Side Story-ya, we're wild like that)...
IT'S MUST SEE TV, YA'LL!! BE THERE!