I am thrilled to announce Maria Bailey will be joining me tonight on
Adoption Angles
! You may know her as the founder of
MomTV
(and the host of her own MomTV show
Maria Bailey Live!
) or from one of her many other accomplishments..
(
DEEP BREATH..
)
She is an award-winning author, radio talk show host, nationally known speaker and the foremost authority on marketing to moms. Each month she speaks to over 11 million moms on TV, radio, print and online. She is the co-host on The Balancing Act on Lifetime TV and the WE-Women's Entertainment Network for Women. On radio, Maria is host of Mom Talk Radio the first nationally syndicated radio show for moms and Co-host of Good Day with Doug Stephan, the #7 ranked morning talk show in America. Online Maria is the Founder of
BlueSuitMom.com
, the award-winning Website for executive working mothers and Co-Founder of Newbaby.com, the largest resource of online video for moms. Her Mom Talk Moments are carried on Nestle's Verybestbaby.com and she serves as the Work/Life BalanceExpert on Johnson and Johnson's Baby.com. Maria's articles can be found in Orange County Family, Hybrid Mom among other magazines.
Oh, and that's only naming a few.. (
EXHALE..
)
Maria is going to share her own adoption journey with us tonight!!
CLICK HERE ~~~>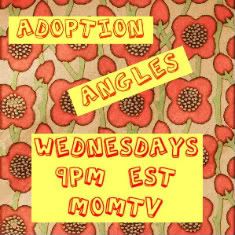 Let me tell ya, it's crazy easy to join the live text chat fun... just click on: "Click Here To Enter Chat" and either use your member log in OR type in a chat name and VIOLA.. you're in like FLYNN! We loooove questions and comments!
We're on live
tonight
at 9PM EST (that's 6PM for all my west coast besties!!)... come join us and BE INSPIRED!!!